<Aritayaki(有田焼)> × <Kintsugi-Inspired Design(金継ぎ風デザイン)>
2023.02.24
#Aritayaki
#Kintsugi
#Kintsugi-like styled plate
#plate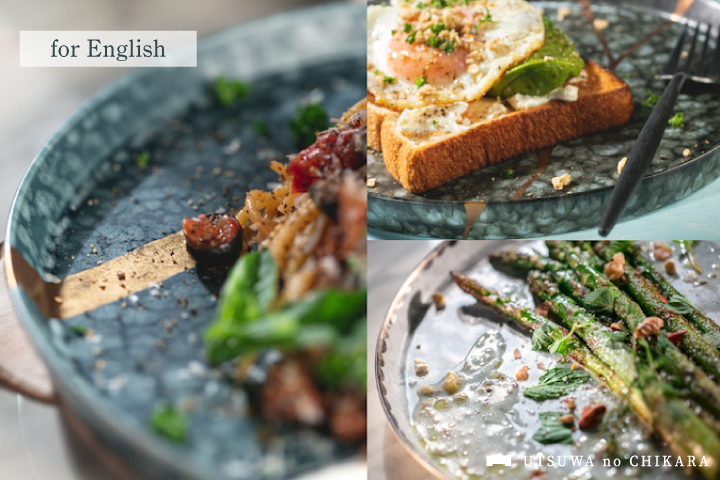 The traditional handicraft that is Aritayaki meets a new version of a traditional Japanese design technique, Kintsugi, to create a new beautiful fusion of traditional handicrafts.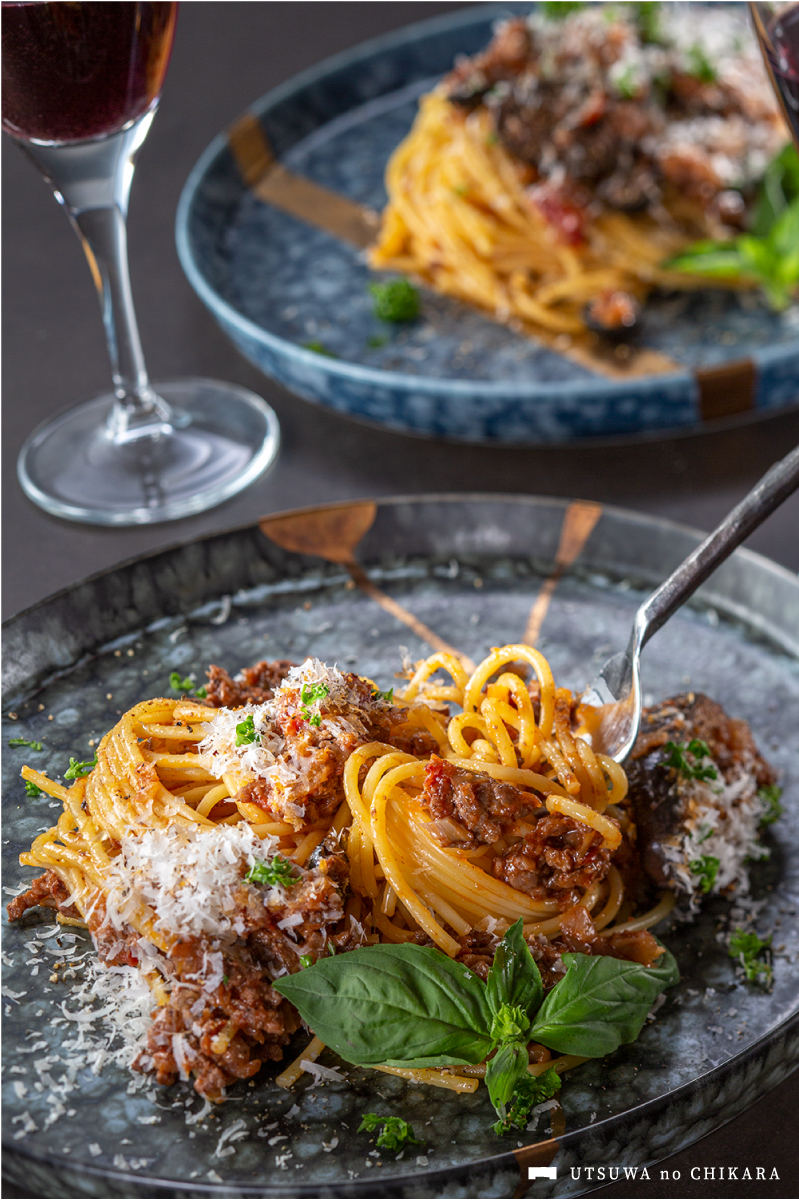 <Aritayaki>(有田焼)
×
<Kintsugi-Inspired Design>
(金継ぎ風デザイン)
Bringing new tableware that has been born from the fusion of traditional handicraft and a new take on a traditional technique
These items are items that you can only get via our shop.
The plates are made to look like they use Kintsugi, with hand painted gold lines decorating the plate, leading to interesting and unique new items, while not being broken in the process. As each item is made individually by each craftsman, the unique colours and lines that occur are a brilliant characteristic that can't be replicated!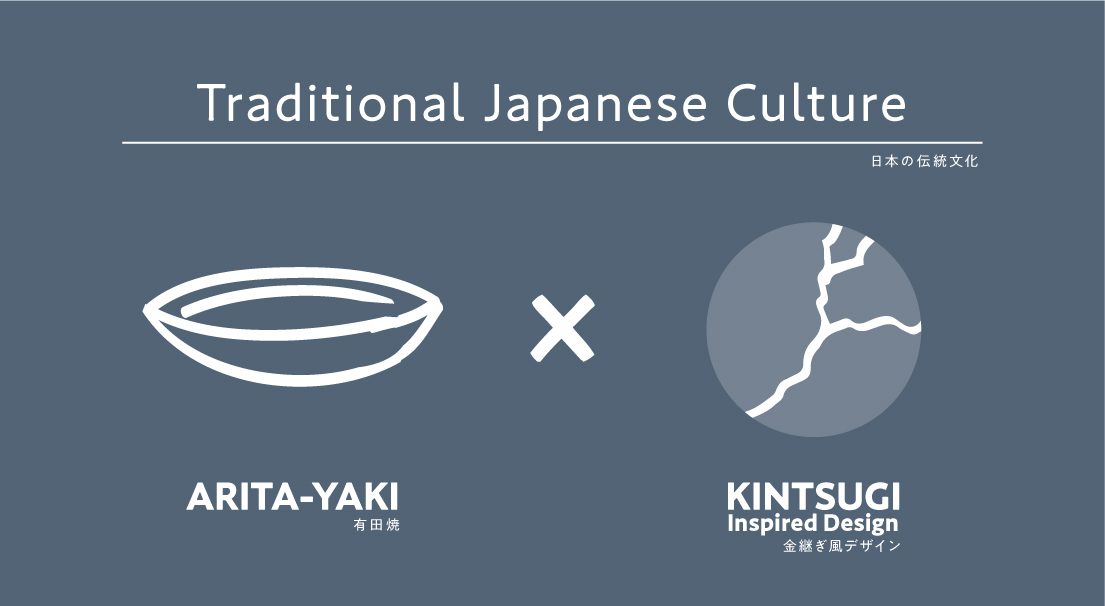 We want to bring beautiful tableware that is a fusion of wonderful porcelain craft that has a delicate beauty while also being durable, Aritayaki-ware, and the beauty of Kintsugi, a rich part of Japanese culture which looks to value all objects. We have created this series so that we can bring a Kintsugi-inspired styled plate to everyone's dining tables, bringing a new gorgeous style that is based on the Kintsugi method of fixing items that is becoming a hit around the world while not being as fragile as plates that are repaired with Kintsugi are.
A traditional Japanese craft that has continued on since the Edo Period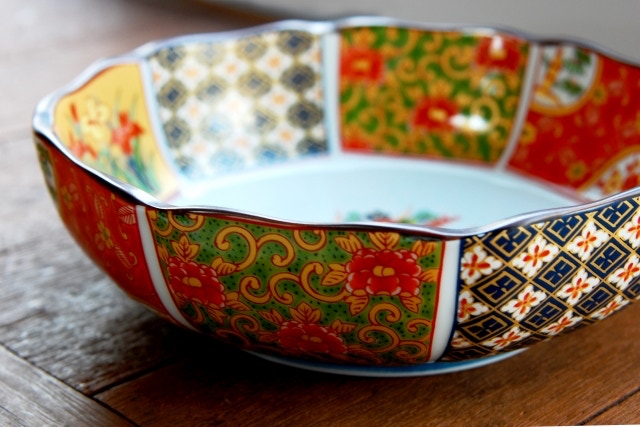 Aritayaki Porcelain
Porcelain is made in Arita, Saga Prefecture, and its surrounding areas. The porcelain is made from clay that has been extracted naturally, and fired in a kiln.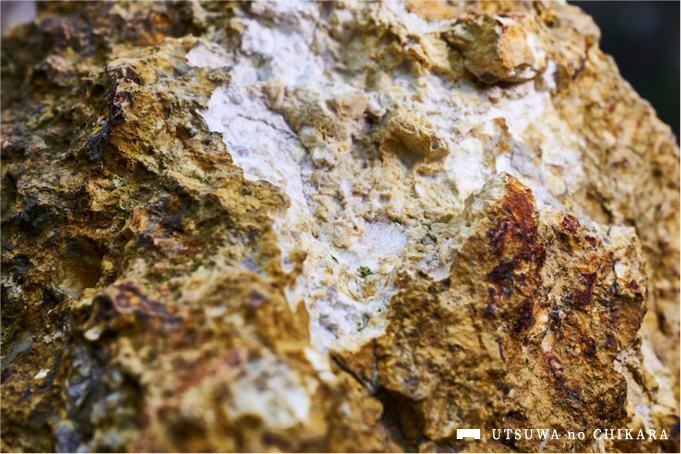 Clay that is used for Aritayaki-ware
The Izumiyama Quarry where the clay that is used to make Aritayaki-ware is extracted
Aritayaki porcelain first appeared around the early 17th century, and is often seen as being Japanese first porcelain craft. The technology to create porcelain that was like Aritayaki-ware was not available in Europe at the time, so owning this porcelain was seen as a status symbol for the aristocrats, and for the past 400 years, these handicrafts have been loved all around the world.
Aritayaki-ware is known for being resistant to breaking
, thanks to being hard-fired. It is also known for being light and thin, while also being able to resist being stained and also not absorbing water. Because of this, it is great for both professional and home use, due to being able to use for a long time, while also being easy to take care of.
The feel of the tableware feeling and sounding like glass, while also being beautiful, alongside being durable enough to not worry when used on a daily basis makes this porcelain extremely popular.

A repair method that has been around for over 400 years.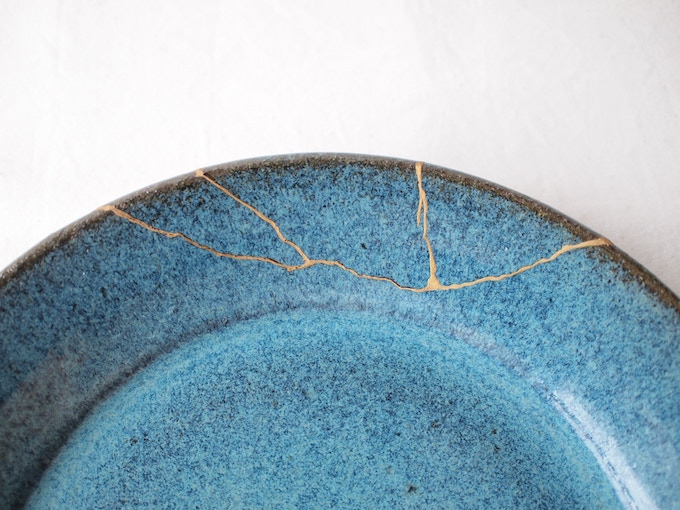 The gold lines feel like they have been their since the items conception, creating a special unique item
Kintsugi is a method of repairing plates, bowls, cups and so on that have been cracked or chipped or fractured. Urushi, a type of lacquer, is used as an adhesive, which is used to bond the fractured parts together, and then gold dust is used to decorate the seams.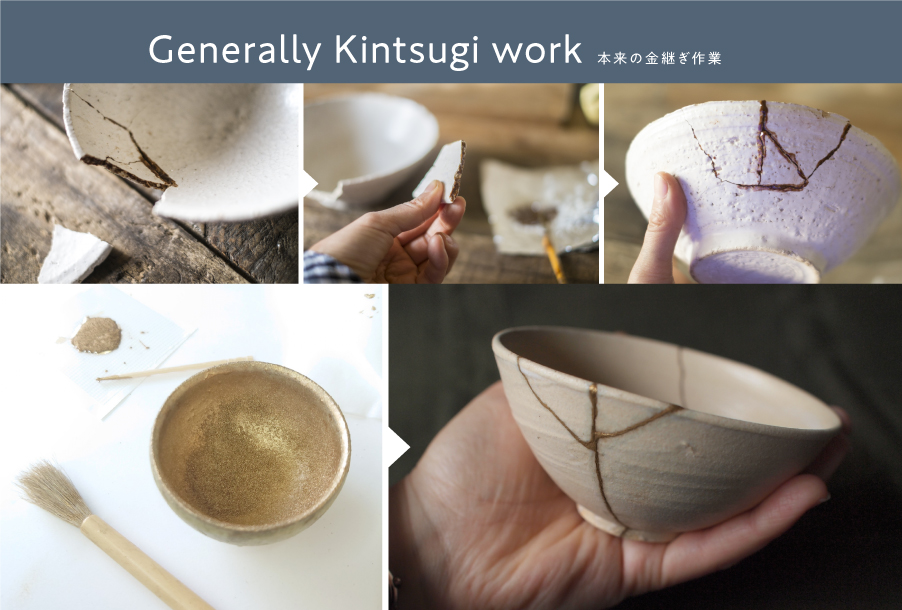 Kintsugi is said to have originated during the beginning of the Edo Period (1603-1868) thanks to the tea ceremony. Born from a mindset of wishing to value their items as best they could, even if their tea ceremony items became damaged, they still wished to use them, and so they were repaired using this kintsugi method, which in turn made for the items to become more beautiful. 
※The tea ceremony is a traditional art form and was held frequently during this period.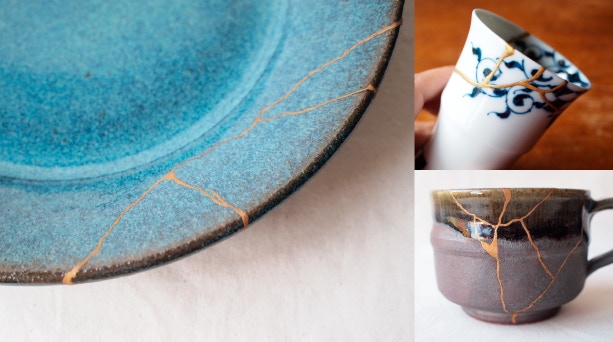 Items that have been repaired using kintsugi have gold lines that run along the cracks, which leads for the item to look and feel different, allowing for you to perceive the item differently, as well as increasing its value. These sparkling lines of gold allow it to look very chic and fashionable. 
It also allows the items to have a completely unique feeling that can't normally be found in new items. 
By using this design ideal, and changing it, we can bring new items, that look like they have been repaired using Kintsugi, to you without the necessity to break and repair plates and bowls. 

Manufactured at a kiln based in Arita, the birthplace of Japanese porcelain, which has been in operation for over 70 years.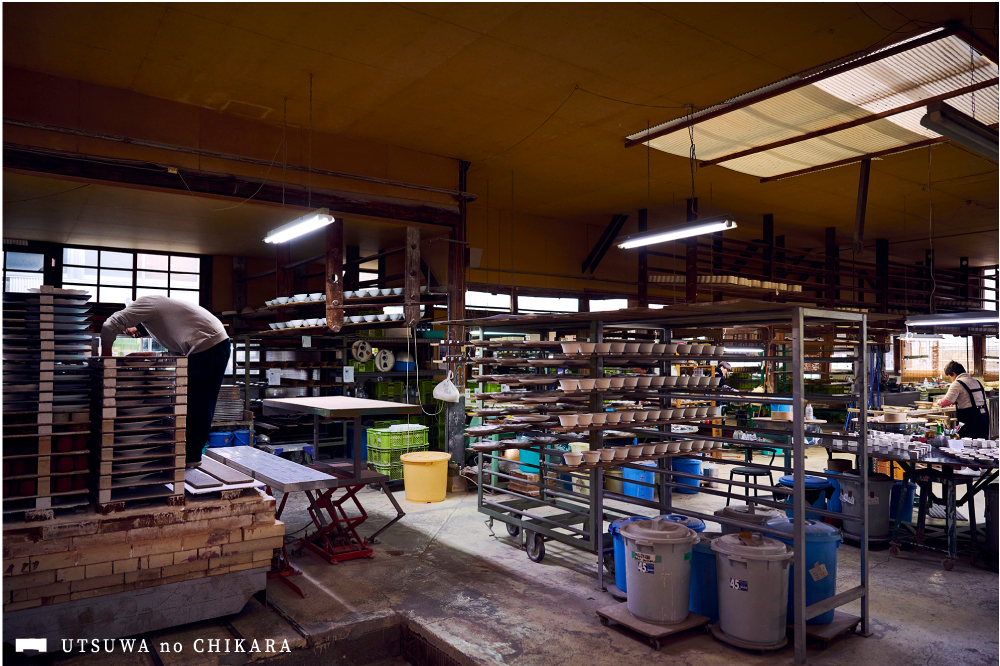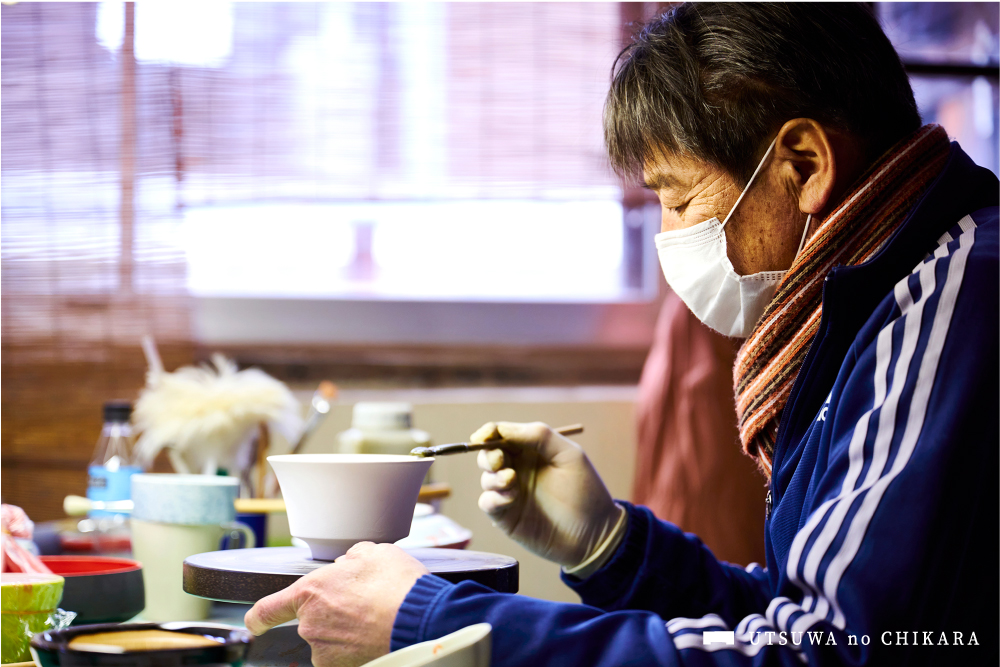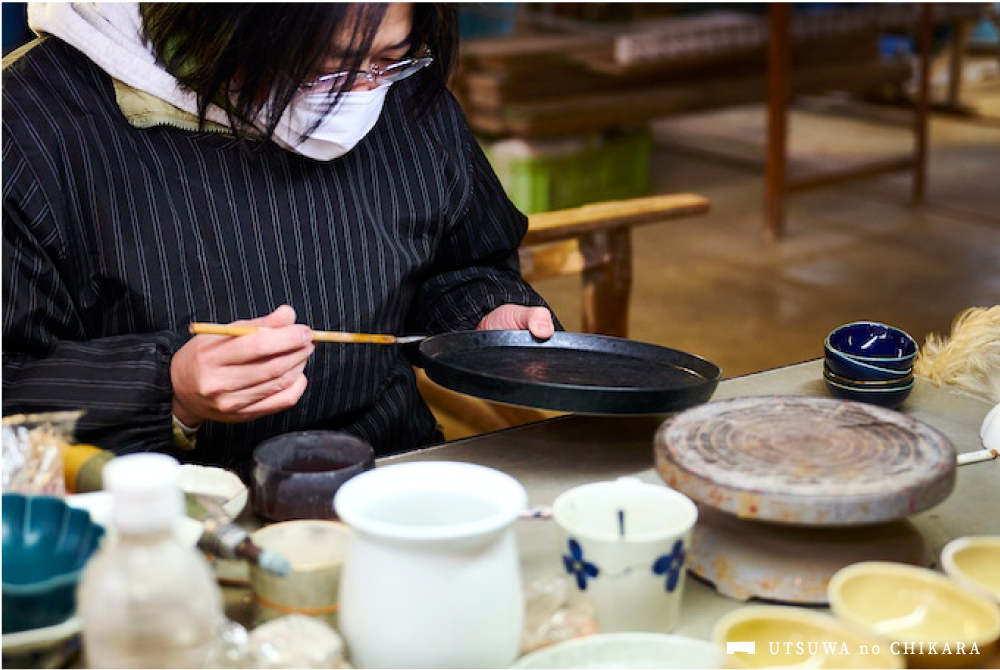 Craftsmen carefully remove any roughness, sharp edges, and burrs, in order to make a sleek smooth finish that has a warm matte finish that fits easily in the hand.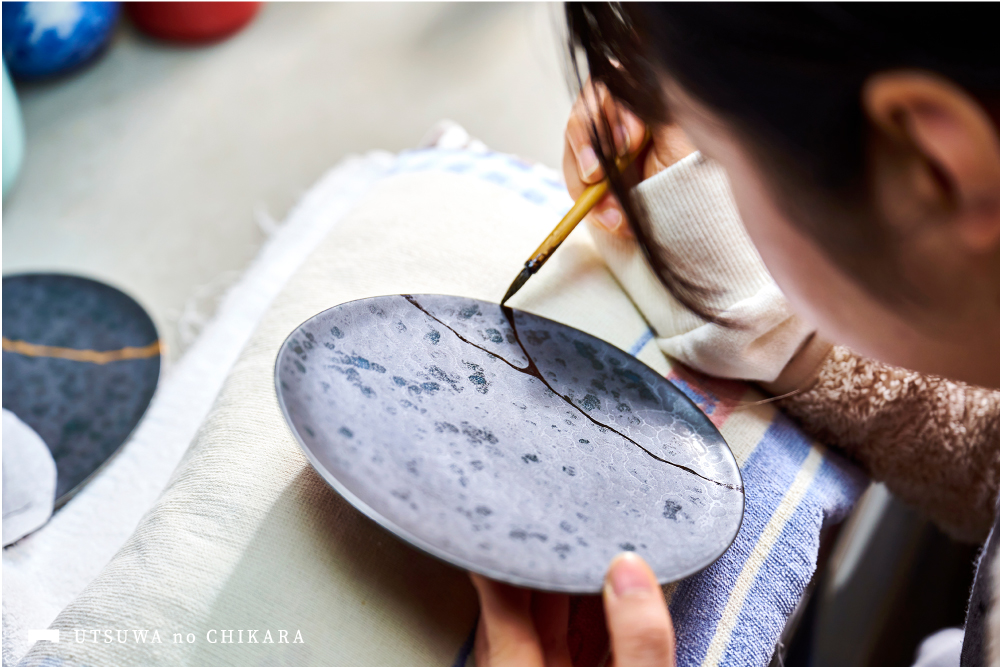 Each piece is decorated by hand. This leads to the items being unique, with each piece having its own colouring and the lines found on the plates are also unique to the plates.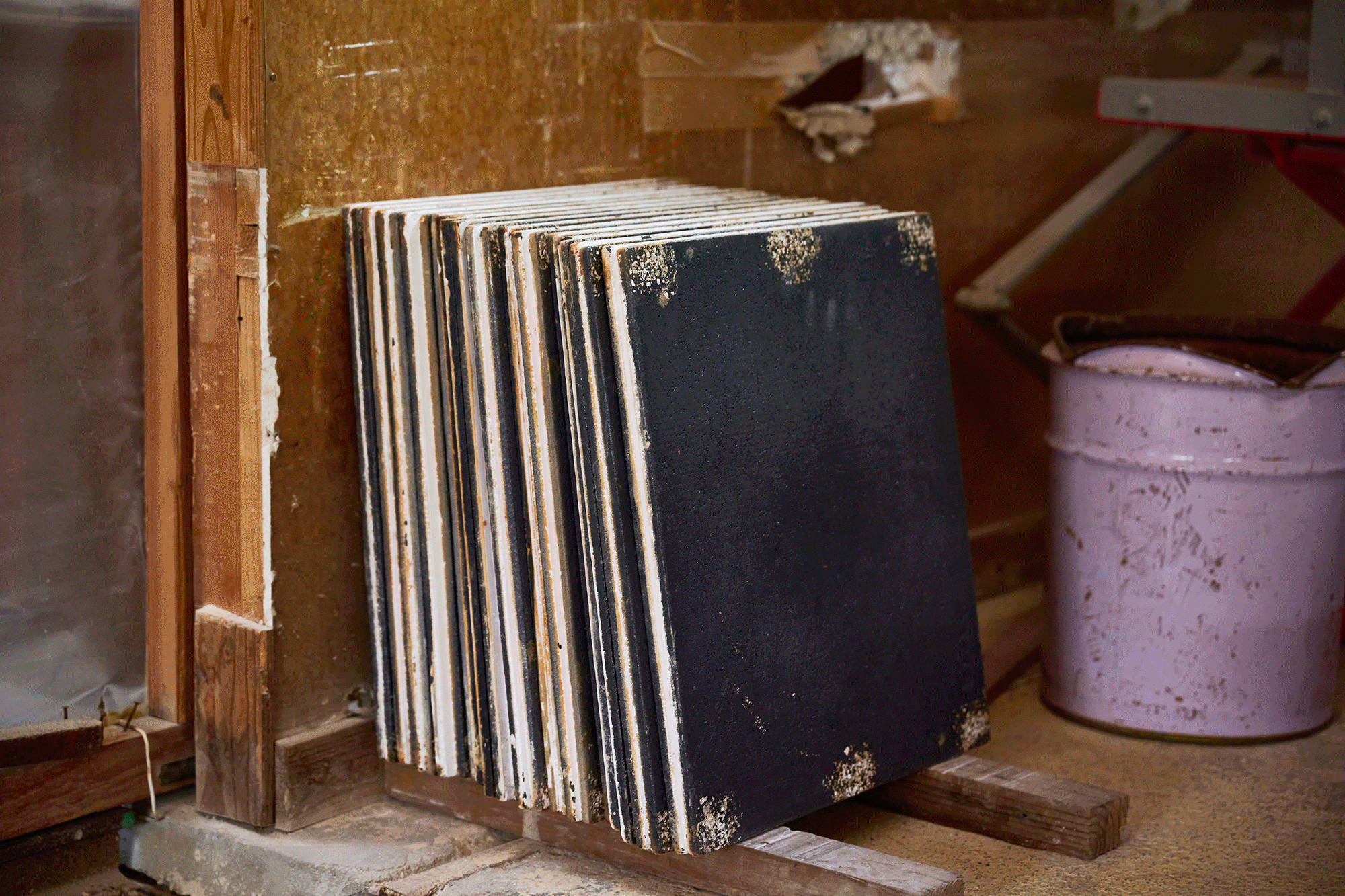 In recent years, methods and plans in order help create a better society in the form of SDGs (Sustainable Development Goals), for example sustainable consumption and ethical consumption. 
Kintsugi is a traditional method of repairing items that is becoming well known around the world, and was born of an ideal that we should make sure our possessions are important and that we should use them for as long as possible. Its from our respect for the craft that we took the look and design that we created the "Kintsugi-Inspired Series".
I was originally attracted to the fascinating wonder of the unfinished beauty that becomes kintsugi repaired items, and I wanted to try to make an item that uses similar designs to this technique. For true Kintsugi items, the item is broken by chance and then mended, which after being mended needs to be handled with care, but for these items, I wanted to make something that could be used in various dining situations. 
For something that would be used everyday, the plates would need to be durable and easy to clean and use. It was from there that I approached various potters in order to bring my idea to life. It was during this time that I was able to meet the Aritayaki-ware potters that would be able to bring life to my Kintsugi-Inspired Series, whose ideals, sense of style, way of thinking matched my own, while also being extremely skilled at the same time.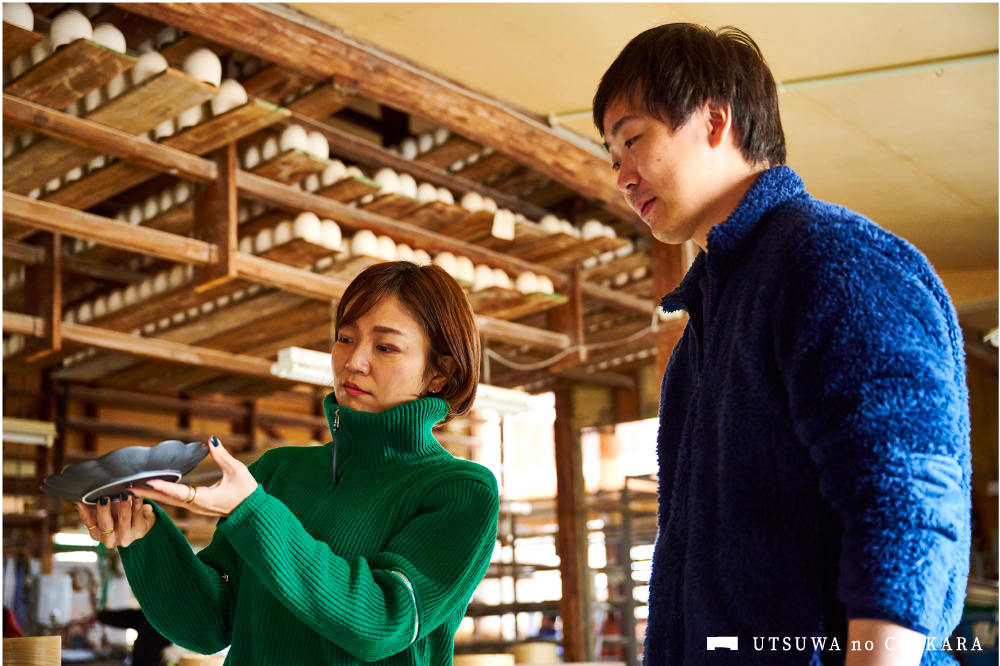 Discussing the plates size and appearance etc. with the one of the kilns potters
The Kintsugi-Inspired Series looks to capture the beauty that is Kintsugi. Normally kintsugi repaired items are second hand, and while beautiful, they are prone to break in the same place where it was repaired, meaning that they can't be used without caution.
However these plates are new, and can be used daily without hesitation, just like you would with normal Aritayaki items. The design of course uses the design idea of kintsugi, with gold lines running over the surface, but also allows for unique design that wouldn't normally be possible with real kintsugi.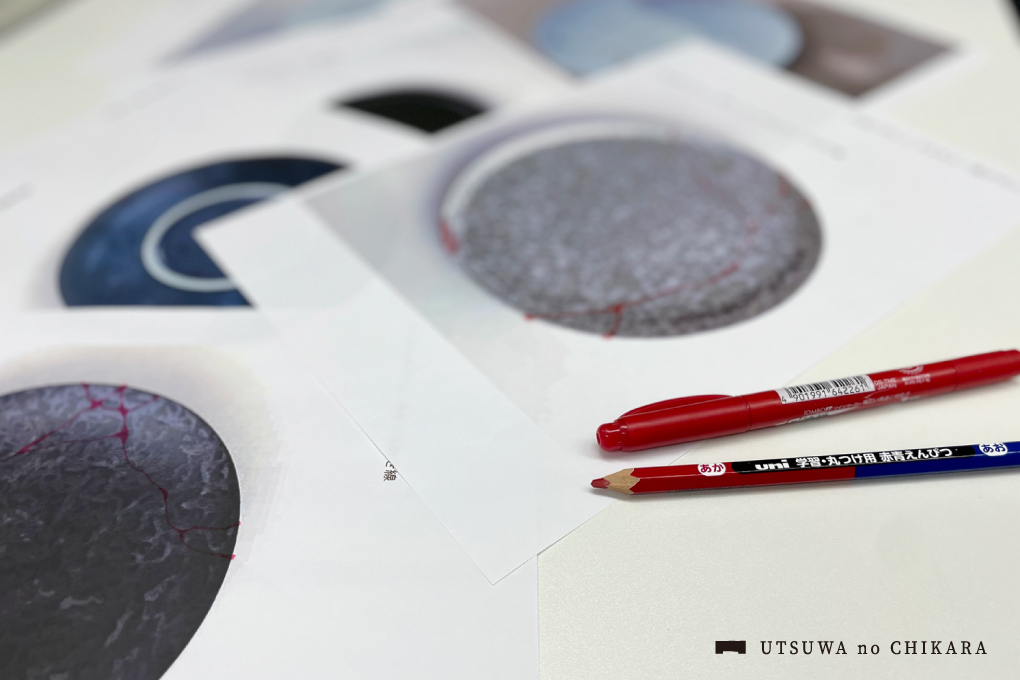 A rough image of how the the gold lines will be decorated on the plate
In order to reproduce the design of beautiful kintsugi items, the materials, the shapes, the glaze as well as the gold and platinum colours are compared and selected from various items.
The design is then drawn over a picture of various plates and bowls and discussed together with the potters.  Drawing like this leads to an analogue feel and is able to bring a feeling of true kintsugi to the item. In order to come to a final image, many versions are drawn, and from these rough images, the team comes together to choose the best version for the Kintsugi-Inspired Series.
That is then passed back to the potters who then produce a prototype, which can take up 1 to 2 months to finish. With that, the team can check the colour compatability, how the gold decoration would look and so on. This stage is repeated over and over until a true final product is made. 
●●If you want to handle it at a store, etc., please contact us directly.●●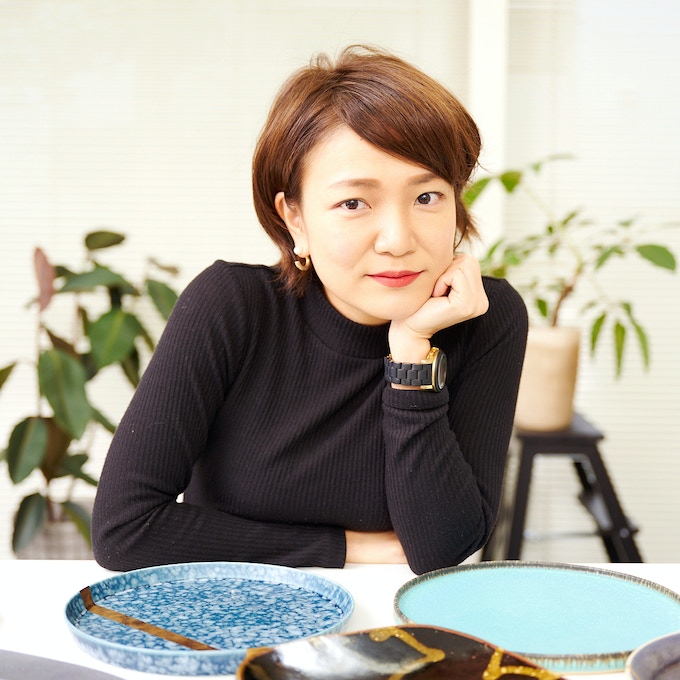 UnC (UTSUWA no CHIKARA) CEO: Yoko Maeda
I'm Yoko Maeda(前田曜子) CEO of Utsuwa no Chikara.
Utsuwa no Chikara is a shop that rents out tableware that loan out or rent high quality plates that have been hand designed by artists. We have made it easy for anyone to get hold of and use brilliant plates made by these artists and brighten up your table. I worked as a dining director, as well as a graphic designer, and so I have a lot of experience when it comes to food related advertising design, as well as restaurant design direction. I started the plate shop during the pandemic, where people were spending more time at home. As a professional that works with how things look in food related areas, we work with artists that utilise traditional techniques and potters to create plates that anyone from professional chefs to home cooks that want to bring a bit of variety and beauty to their home.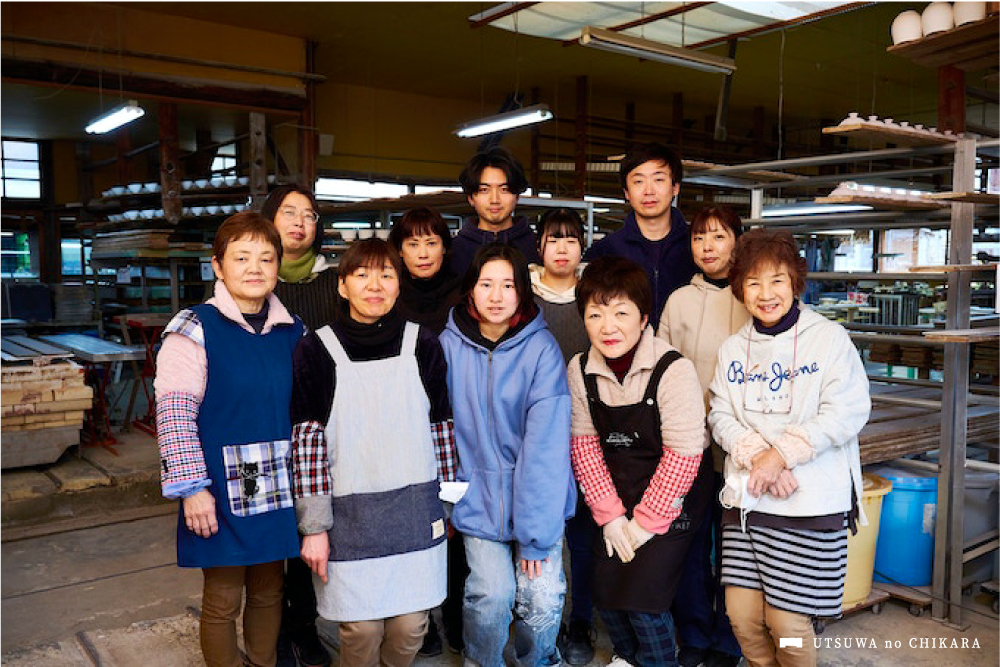 Some of the potters who will pour their efforts to bring you amazing Kintsugi-like Aritayaki Plates!
We have met and talked over plans for the plates many times with  our potter partners that we introduced above, and after many trials and tests, we have created plates that work well with many dinner tables, and look to accentuate your busy daily life, and help you to enjoy your meal times better. 
We hope that we can bring amazingly beautiful plates made using unique traditional techniques to people all over the world!